Introduction
Subline series LS1000H LS 1500H LS 2000H
Internal DC Switch for added safely protection
Transformer-less design and easy installation
Compact design
Power factor continuously adjustable
Flexible communication connection, support USB, WIFI, Ethernet
Support online update from USB or ethernet
5 years warranty
Adopt SIC Mosfest components to improve efficiency
With natural heat dissipation mode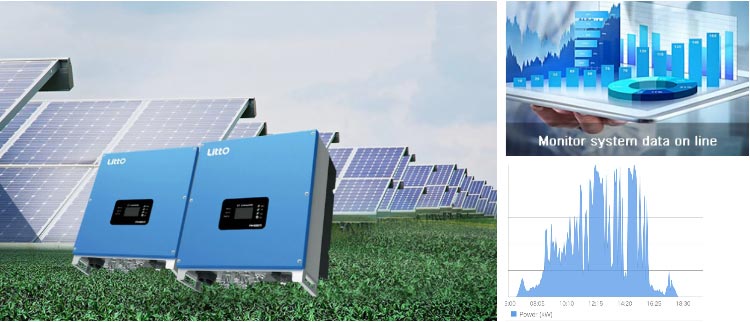 Specification
Model name
LS 1000H
LS 1500H
LS 2000H
DC input parameter
Max. DC power
1100W
1580W
2100W
Max. DC power of per string
1100W
1580W
2100W
Max. DC voltage
450Vdc
450Vdc
450Vdc
Rated DC voltage
360Vdc
360Vdc
360Vdc
MPPT operationg voltage range
70-450Vdc
70-450Vdc
70-450Vdc
MPPT full load voltage range
110-450Vdc
150-450Vdc
200-450Vdc
parallel inputs number
1
1
1
MPPT tracking number
1
1
1
Max. input current
11A
11A
11A
DC connection type
MC4 terminal
MC4 terminal
MC4 terminal
Maximum inverter backfeed current to array
0A
0A
0A
AC output parameters
Max. output apparent power
1000VA
1500VA
2000VA
Rated output power
1000W
1500W
2000W
Rated grid voltage
220V/230V/240Vac
220V/230V/240Vac
220V/230V/240Vac
Grid voltage range
185V-276Vac
185V-276Vac
185V-276Vac
Rated power grid frequency
50 Hz/60Hz
50Hz/60Hz
50Hz/60Hz
Grid frequency range
45-55Hz/55-65Hz
45-55Hz/55-65Hz
45-55Hz/55-65Hz
Max. output current
5.0A
7.5A
10A
Power factor (cos φ)
0.8i...i…0.8c
0.8i...i…0.8c
0.8i...i…0.8c
Current harmonics (THDI)
<3%(under Rated output power)
<3%(under Rated output power)
<3%(under Rated output power)
AC output terminal connection type
plug and play terminal
plug and play terminal
plug and play terminal
Maximum output fault current
60Arms
60Arms
60Arms
Maximum output over current protection
Limited to 8A
Limited to 12A
Limited to 16A
Efiiciency
Max. efficiency
0.97
0.972
0.972
EU efficiency
0.965
0.967
0.967
MPPTefficiency
0.998
0.998
0.998
General data
(W / D / H) size
355*295*170mm
N.W
10Kg
11Kg
11Kg
Install way
Wall hanging fixed
Operating temperature range
–25 °C ~ +60 °C
Max. altitude
2000m
Relative temperature
0%-98% No condensation
Noise
≤25 dB(A)
Night consumption
0 W
Electrical isolation
Transformerless
Cooling mode
Air natural convection
Overall protection level
IP65
Communication interface
USB/WIFI/GPRS(option)/RS485(option)
| | |
| --- | --- |
| Reference standard | |
| Safety standard | IEC 62109-1, IEC 62109-2, AS/NZS 3100 |
| Electromagnetic compatibility standard | EN 61000-6-1,EN61000-6-2, EN61000-6-3, EN61000-6-4, EN61000-3-11, EN61000-3-12 |
| Grid connected standard | VDE-AR-4105, VDE0126-1-1, G83-2, AS4777, CQC, EN50438, EN62116, CQC, MEA, PEA, IEC61683 |
Product Design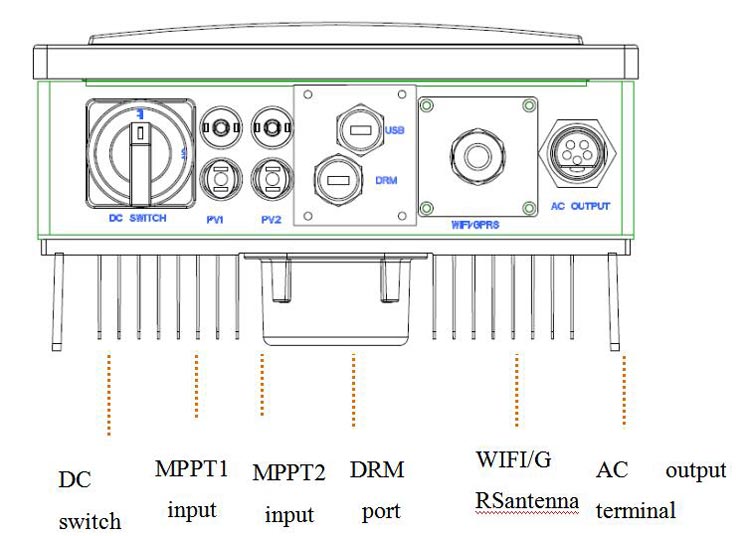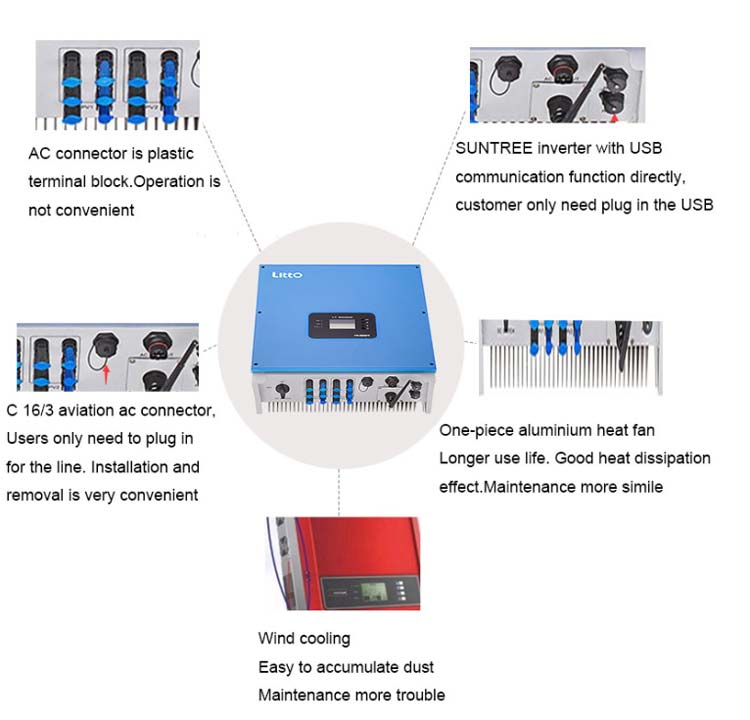 Product installation example

1.Litto PV grid tied inverter is specially designed for outdoor installation, please install in the directions as shown in above diagrams.
2.Within 15 degrees vertical direction is recommended for the installaton.
3.Please install the inverter in the range of eyes can be check horizontally in order to check the working state and parameters of the LCD display and maintenance work.
4.Ensure the inverter is completely stable on the wall.
5.It is not recommended to install inverter under strong sunshine, in case of overheating reduce output power.
6.Environment temperature recommended of installation location is from -25 degrees to 60 degrees (-13 degrees to 140 degrees Fahrenheit).
7.Please ensure that the installation in a good ventilation environment, ventilation problems will affect the performance of the inverter internal electronic components and shorten the service life of the inverter.
Company Show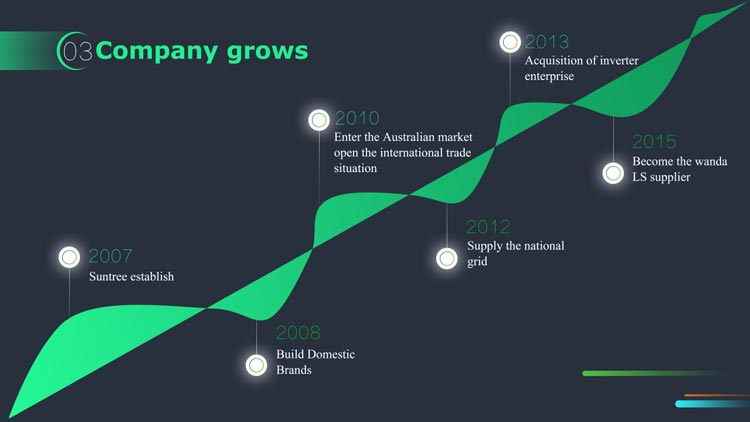 International Exhibition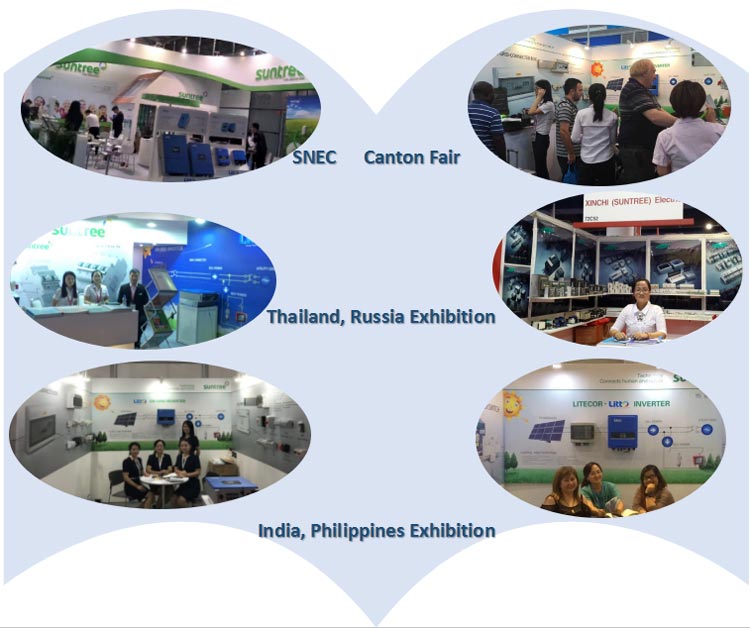 Packing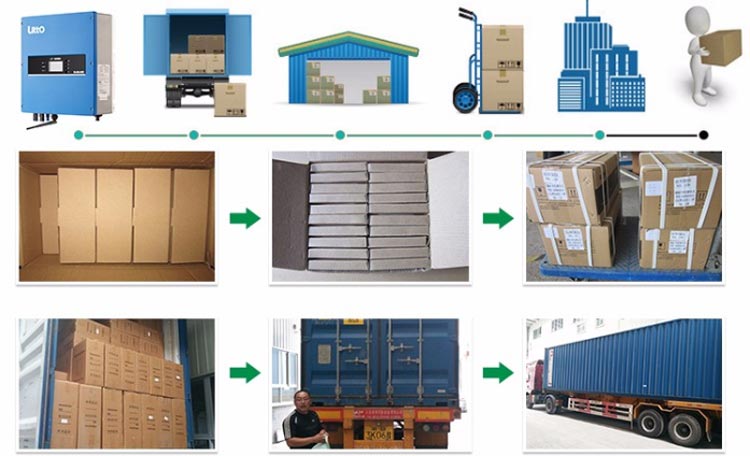 FAQ
Q:When I can receive quotation and detail information after send the enquiry?
A: Reply will be sent in 24hours.
Q:Can I get a sample for test before place order?
A:Of course!
Q:How's the delivery?Because I really need them is urgently?
A: Basically we have sample in stock.7 days for bulk order.
Q:How's the warranty of inverter?
A:5 years & 10 years..

Q: What's your shipment method?
A: We ship by Express, by air, by sea, by train.