Introduction
AMBER SERIES LT 5000HD /LT6000HD /LT 8000HD/ LT 10000HD
Wide input voltage, DC input voltage up to 1000V
Maximum efficiency of 98.5%
Standard configuration USB/WIFI, monitoring more flexible, more convenient
Full line three-phase inverter, using T three level design, power generation efficiency increased by 5%
Support remote control, update, service by monitor
Provide OEM service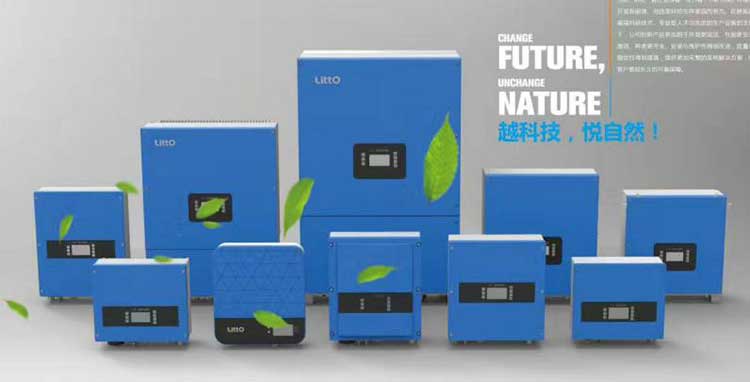 Specification
Model name
LS 3000HD
LS 4000HD
LS 5000HD
DC input parameter
Max. DC power
3150W
4200W
5250W
Max. DC power of per string
3150W/12.0A
4200W/12.0A
5250W/13.0A
Max. DC voltage
600Vdc
600Vdc
600Vdc
Rated DC voltage
360Vdc
360Vdc
360Vdc
MPPT operationg voltage range
100-550Vdc
100-550Vdc
100-550Vdc
MPPT full load voltage range
150-500Vdc
200-500Vdc
250-500Vdc
parallel inputs number
2
2
2
MPPT tracking number
2
2
2
Max. input current
23.0A
23.0A
23.0A
Max. input current per string
12.0A/ 12.0A
12.0A/ 12.0A
13.0A/13.0A
DC connection type
MC4 terminal
MC4 terminal
MC4 terminal
Maximum inverter backfeed current to array
0A
0A
0A
AC output parameters
Max. output apparent power
3000VA
4000VA
5000VA
Rated output power
3000W
4000W
4960W
Rated grid voltage
220V/230V/240Vac
220V/230V/240Vac
220V/230V/240Vac
Gridvoltage range
185V-276Vac
185V-276Vac
185V-276Vac
Rated power grid frequency
50 Hz/60Hz
50Hz/60Hz
50Hz/60Hz
Grid frequency range
45-55Hz/55-65Hz
45-55Hz/55-65Hz
45-55Hz/55-65Hz
Max. output current
15.0A
20.0A
25.0A
Power factor (cos φ)
0.8i...i…0.8c
0.8i...i…0.8c
0.8i...i…0.8c
Current harmonics (THDI)
<3%(under Rated output power)
<3%(under Rated output power)
<3%(under Rated output power)
AC output terminal connection type
plug and play terminal
plug and play terminal
plug and play terminal
Maximum output fault current
80Arms
80Arms
80Arms
Maximum output over current protection
Limited to 24A
Limited to 32A
Limited to 40A
Efiiciency
Max. efficiency
0.978
0.978
0.978
EU efficiency
0.972
0.972
0.972
General data
(W / D / H) size
355*395*170mm
N.W
17Kg
17.5Kg
17.5Kg
Install way
Wall hanging fixed
Operating temperature range
–25 °C ~ +60 °C
Max. altitude
2000m
Relative temperature
0%-98% No condensation
| | | |
| --- | --- | --- |
| Model name | weight | size |
| LT 5000HD | 25KG | 410mm*450mm*260mm |
| LT 6000HD | 25KG | 410mm*450mm*260mm |
| LT 8000HD | 25KG | 410mm*450mm*260mm |
| LT 10000HD | 25KG | 410mm*450mm*260mm |
3 Electrical connection
3.1 Safety
Litto Sublime series is high efficiency single phase PV inverter, its function is to convert the DC power from panel into single-phase 50Hz 230V AC power and feed into the grid. It can be used for grid tied power system.
In the installation, it need to strictly according to the installation of the local requirements, and install the power measurement device. Inverter must be connected to the grid, cannot be used as an independent device.
Simple connection diagram of the inverter is shown in the follows: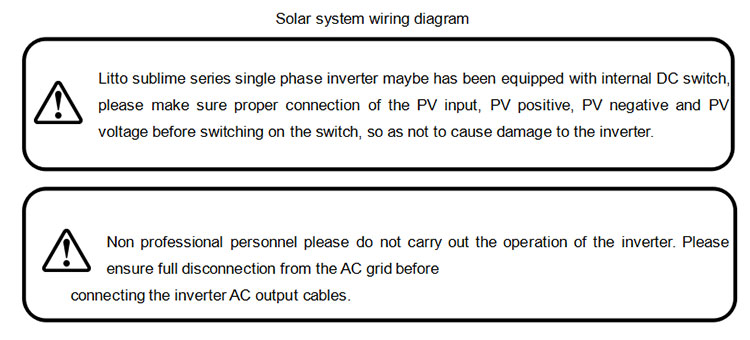 Testing

Working Line

Application

Company Show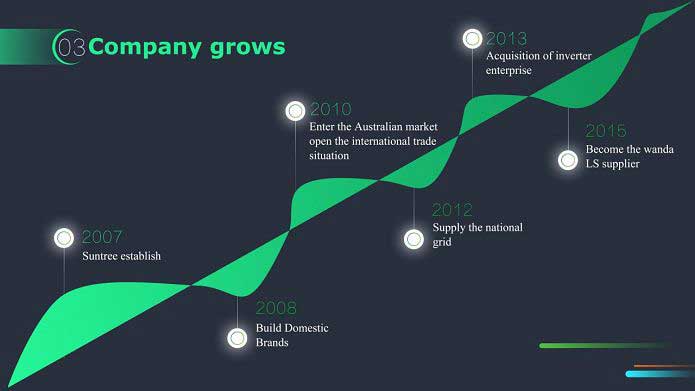 International Exhibition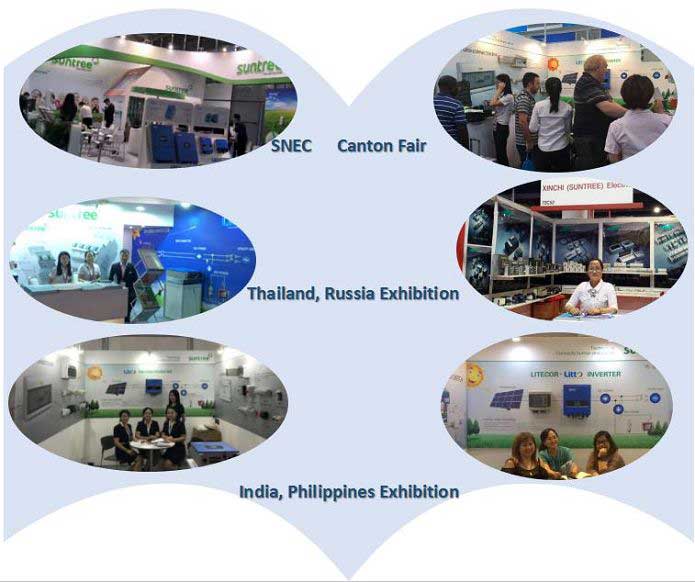 Packing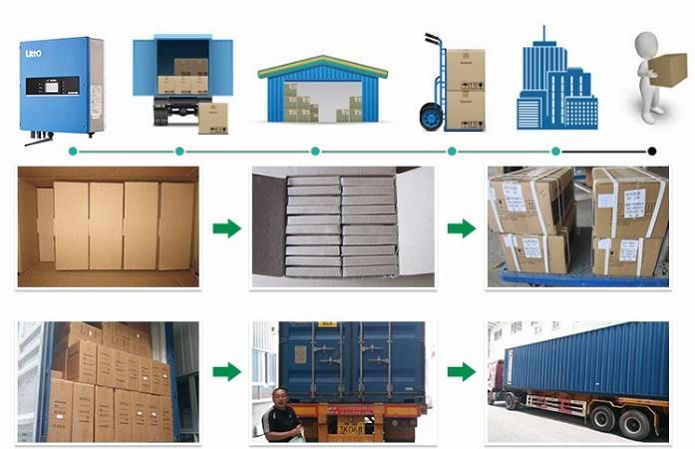 FAQ
1. How many years the quality guarantee of the on-grid solar inverter?
Normally 5 years quality guarantee, also can design 10 years quality guarantee if our customer require.

2. What type of the capacitor inside the inverter?
Film capacitor design.

3. How long does the service life for the on-grid solar inverter?
25 years of design service life.

4. Expect on-grid solar inverter, do you company also produce off-grid inverter?
Yes, we produce grid-connected solar inverter, off-grid inverter with batteries, and our engineers are endeavor to develop save energy inverter.

5. What's the after-sale service for your inverter?
We use WIFI, USB, GPRS, RS485 to monitor the working condition of the machine. Since every machine have a code, when something wrong with the machine, you just need to tell me your machine code, then we can monitor on internet and check out the real problems of the machine, then get back to you to solve it. No need to send it back to China.