• High reliability
With AC Surge Protect ion Device
With DC circuit breaker, rated voltage AC690V
• Strong adaptability
IP65 design, waterproof, anti dust and anti ultraviolet.
Strict test for high and low temperature, used widely.
The simple installation, the simplified system wiring, the convenient wiring .
The box body is made of cold rolled steel and other metal materials.
• Flexible configuration
Used for AC output of 小50kw inverter. Current rating of the photovoltaic fuse, circuit breaker i s modified.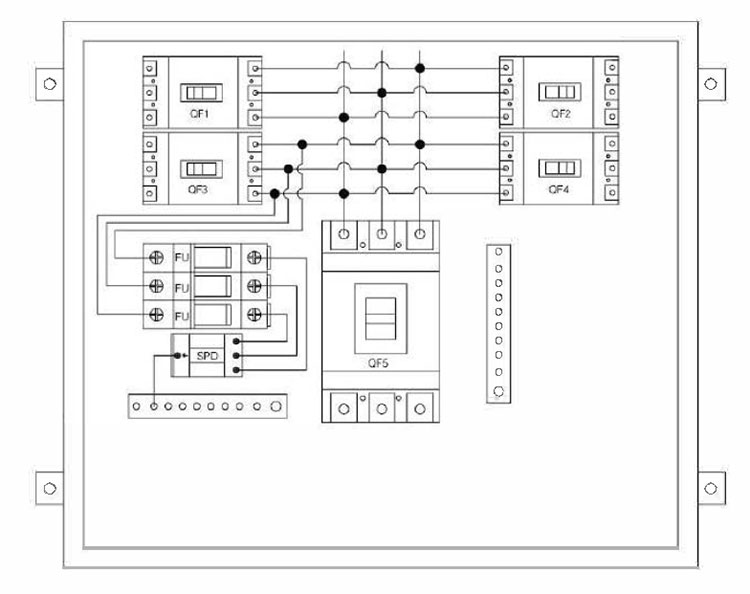 DESCRIPTION
SHLX-AC4/1 AC PV combiner box is applicable to the PV group on power system. It is an important part to undertake series inverter and AC powe「distribution cabinet or a step-up transformer and access up to four sets of photovoltaic group on inverter. Into line with the input of circuit breaker and output line with circuit breaker or the load isolating switch. Bus bar with two levels of lightning protection.Highest rated system voltage is AC690V. IP65 Protection class same a s inverter. Installed outdoor. With waterproof. dustproof, anti UV. anti salt spray
corrosion etc. function
The combiner box greatly simplifies the connection between series inverter and AC power distribution cabinet or boost transformer. Simple and clear linternal structure make reasonable wiring.
High reliability and simple maintenance. Outdoor wall mounted can adapt to the harsh environment. In addition to the material and size, it can be customized according to user requirements.
TECHNICAL PARAMETERS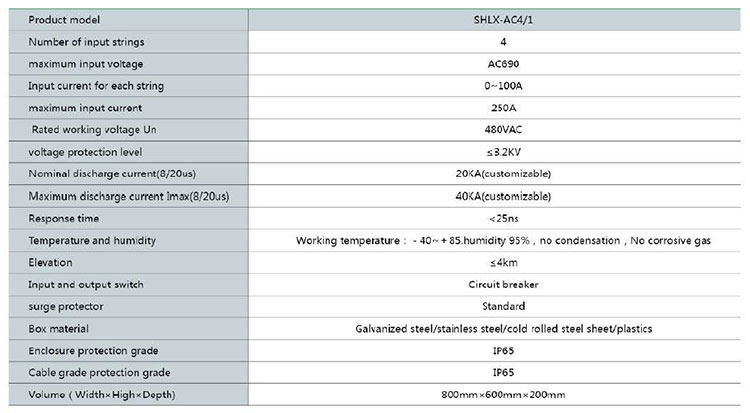 SCHEMATIC DIAGRAM